Patchwork Wingback Chair
Style Eclectic
Timber Pine
Colours Multi
Design Gloss black timber legs on a ply/pine frame, zig-zag springs to prevent sag, high density foam, durable polyester velvet upholstery with green velvet buttons.
Dimensions
W85 D90 H107 SH48.5 SD53CM
Shipping: North Island (non rural) $120
South Island (non rural) $230
Local deliveries (Wgtn city – Upper Hutt including the Kapiti Coast) $80
Local pick up
Rural addresses please contact us for a quote | Contact us to find out about combined shipping 🙂
For True Eclectics
One of our perennial best-sellers the Patchwork boasts a cacophony of colour is a true statement piece full of texture and character. Stunning velvet patchwork fabric with feature green velvet buttons in a traditional Chesterfield style. Finished with glossy black turned legs.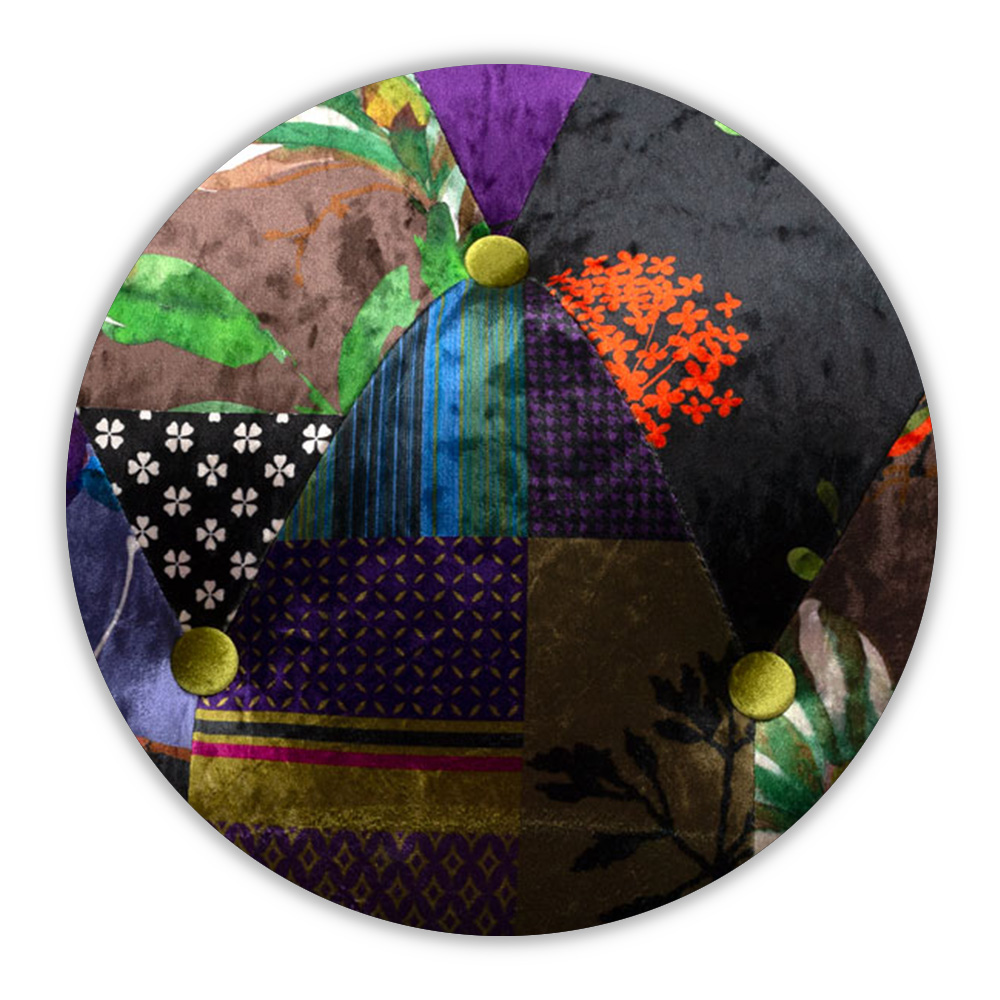 The Upholstery
Whilst you might not choose polyester for your clothes, you should definitely choose it for your sofa.  Why? Because polyester offers superior colourfastness, better stain resistance and holds its shape over the years in comparison to cotton alone.
Quality Assurance
Rigorously tested for correct measurements, colour, wood moisture (internals included), load bearing and construction strength.
Colour Accuracy 
We try our best to ensure photography depicts colours as accurately as possible. Colours can appear different depending on the type of display you are viewing from, therefore we recommend viewing in person for true colour representation.
Care
REGULAR CARE:
The upholstery should not be exposed for long periods to direct sunlight or heat exposure as this may cause fading and deterioration of the cover material. It is recommended to give the upholstery a frequent vacuuming on low suction or light brushing.
CLEANING:
Avoid hard rubbing or scrubbing. Clean body contact areas regularly. Always dust before cleaning. Use a retailer recommended cleaning system as per manufacturer's instructions, spot test before applying to a large area. Dry away from direct heat.
SPOT CLEANING:
In the event of spillage it is imperative to act quickly. Carefully soak up any excess liquid, ideally using the edge of a white paper towel, then dab gently with a fresh towel taking care to avoid soaking in or spreading of the remaining liquid. Clean as above. It is advisable to seek professional help when serious stains occur.
Made in China